From USA Gymnastics...
---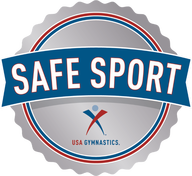 USA Gymnastics is committed to fostering a fun, healthy and safe environment for all members. The USA Gymnastics Safe Sport program provides educational resources for parents, coaches, judges, clubs and athletes to promote a safe environment for children. Visit
USAGym.org/SafeSport
for more information.
Below is an informative Safe Sport video you can post on your web sites if you choose.
Toby presented this in the fall of 2017.




SAFE SPORT VIDEO

---
Good afternoon National, Regional, and State Chairs,
Please post the following message and the nomination form on your web sites. I will be sending the call to each professional member in the US today.
This is the official call for nominations for the 2018 Women's Program National Officers. Elections for the National Junior Olympic Committee Chairman (NJOCC), National Xcel Committee Chairman (NXCC) and the National Technical Committee Chairmen (NTCC) are to be conducted in 2018.
Women's Nominations for National Committee Chair Positions
All nominees must be USA Gymnastics Women's Program Professional Members in good standing for a minimum of two consecutive years immediately prior to the nomination, be at least 21 years old, and meet the prerequisites in Article V of the Operating Code Sections E, F and G found posted on the USA Gymnastics website, Women's Program home page. The positions are four (4) year terms 2018-2022.
Please see the attached nomination form that includes eligibility requirements for each position. Nominations are to be sent to Annie Heffernon, the Women's JO Program Director, at the USA Gymnastics office by March 31, 2018. Please email nominations to
aheffernon@usagym.org
.
National officers shall be elected by the members of their respective committee.
The voting shall be by written ballot.
Shall serve for four (4) years
If you have questions, please let me know.
Thank you,
Annie
Nomination Form
---
Future Dates for JO Nationals and Westerns

2019
Level 9 E/W - May 10-12
JOs - May 17-19

2020
Level 9 E/W - May 8-10
JOs - May 15-17



---
Got Your 2017-2018 Rules & Policies?
Download yours now!
Click Here
From the Region...

---
From the Regional Xcel Chair
An announcement on the Women's home page and the Xcel update page has
just been posted that the Xcel iCode was updated March 9, 2017 as
Version 2.0. with some minor corrections in charts and SR examples to
match the Xcel Code of Points book. Please check your iPads to make sure
you have the latest version. Easiest way to tell is by going to the last
chapter, last page to see if Version 2.0 is listed.
Additional replacement pages for the Xcel Code of Points will also be
posted by tomorrow. These are not changes, just some corrections to make
the paper and digital Codes the same. I will send the corrected pages
directly to you when they are completed.
Xcel Code of Points
Revised Pages
-March 2017
Revised Pages
-June 2017
---
From the State Chair...
Message from Danielle:Hi All,

As many of you may know, I was in Indianapolis this week meeting with USA Gymnastics Women's Program Committee and the new USAG CEO and President Kerry Perry. With everything going on in the media everyone has been sitting on the edge of their seats waiting to see "What's next?". Prior to this working session, I was simply trying to ride the waves and see how things were going to play out. Loui Janecky and I attended this meeting with hope of resolution and guidance for our new path forward. We got an opportunity to speak with Kerry, who is also a New Mexico native. She was very excited to meet us and is planning a trip to New Mexico to visit a few clubs within the next few months.

Our path forward is a positive one, and I am excited to be following down this path of change and empowerment. I would like to bring some of this information back to you at our Open Committee Meeting during the Optional State Meet weekend. The exact time for this meeting will be made available within the next week.


I have attached a statement that all National, Regional and State Chairs created during our working session and I feel very strong about this statement.

USA Gymnastics holds the highest standard of care for athletes and members.

We have the desire to rebuild and to move forward.

We have the opportunity right now, in the history of USA Gymnastics, in our sport, and in our country, to lead, saying, we are going to get it right. By doing that, we will honor our athletes who have been impacted and we will honor all USA Gymnastics members and participants, including, but not limited to, athletes, coaches, parents, judges, and volunteers.

We will not be the organization that shuts the doors, changes the name, and puts a new face on the same institution.

At the end of the day, we have an opportunity to improve USA Gymnastics. We have an obligation to meet the challenge that has been set before us and to become a better organization. It is about sharing positive gymnastics stories and getting it right.

We will get it right.

Eighty-Eight Women's Program USA Gymnastics National, Regional, and State leaders stood today to wholeheartedly support USA Gymnastics.

Thank you all for your time and I will be in contact soon!



Updated 11/20/17
*NEW NM R&P and Updated Committee Minutes*

---
Committee Updates
Financial Reports

Committee Minutes


NM Rules & Policies
(Formally known as State Directory)
2016 State Coaches/Judges Clinic